Theratape is maintaining our commitment to fast 1pm CST daily shipping despite the COVID pandemic.
StrengthTape Taping Kits
StrengthTape Precut Taping Kits provide the ultimate in kinesiology taping convenience. Each kit is designed for 1 or 2 body parts and contains enough StrengthTape precut strips for 2+ complete applications. Included with the tape is a full-color instruction card with step-by-step instructions for a variety of conditions affecting those body parts.
StrengthTape comes with an extra kick - it is infused with charged minerals that generate negative ions, charged molecules that relieve stress and boost energy. Negative ions multiply the benefits of kinesiology taping by increasing antioxidants, which protect cells from free radical damage associated with overuse or injury. The most noticeable benefits are enhanced pain relief and more rapid reduction of swelling and inflammation. 
We utilize industry-leading procedures to protect your privacy and security.

Orders received by 1:00 pm CST M-F will ship the same day.

30-day money-back guarantee for damaged, defective or unwanted items.
each kit contains enough tape for 2 complete applications
10% greater elasticity provides additional support for injuries and snap-back for performance enhancement
proprietary AllSport adhesive provides superior sticking power in all conditions, including water
when properly applied, most applications will provide pain relief, comfort and support for 3-7 days
How does StrengthTape's Negative Ion Technology Work?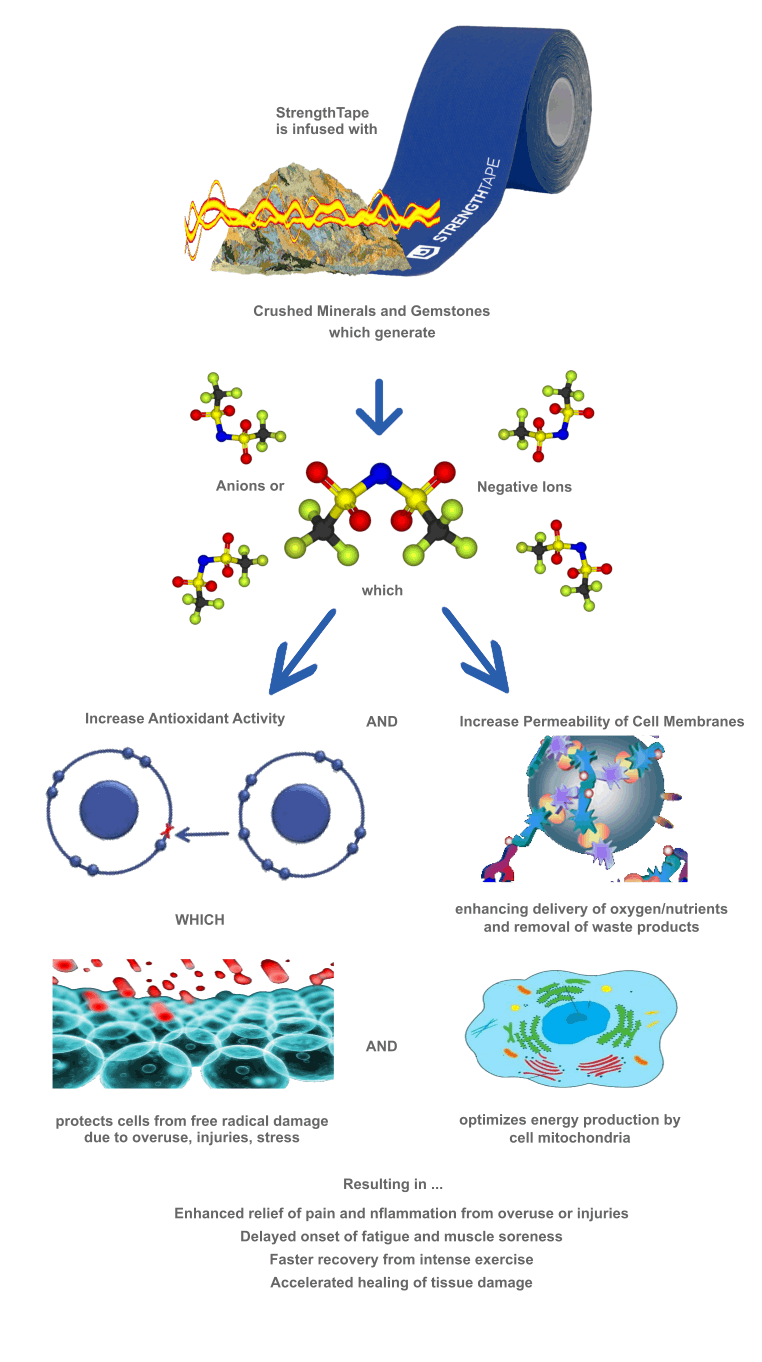 Data sheet
Strip Type

I Strips

Left/Right

Either

Tape Type

Precut Applications

Adhesive Type

Strong (5-7 days)

Google Product Condition

new

Brand

StrengthTape

Package Qty

2-Pack

Special Features

Extra Strong Adhesive

Google Product Type

Health & Beauty > Health Care > First Aid > Bandages & Tapes

Amazon item type keyword

kinesiology-recovery-tapes

ASIN

B00K1PCZCU

Amazon Category

Health and Personal Care
Sports and Outdoors

Amazon Item Type

kinesiology-recovery-tapes

Amazon Product Type

sportinggoods

Amazon Item Type Keyword

exercise-wraps

Key Product Features 1

THE BETTER BRACE! THE BETTER TAPE!: providing support to muscle and joints while allowing for full range of motion. STRENGTHTAPE® is a premium kinesiology tape made for athletes and non-athletes alike.

Key Product Features 2

Great for: Shin Splints, Back Pain, Ankle Sprain, Shoulder Pain and more! Be sure to follow placement instructions for optimal usage and results.

Key Product Features 3

StrengthTape is WATER RESISTANT! Prevent and support common injuries. STRENGTHTAPE® provides support & stability for muscles, joints, and tendons for up to 7 days in nearly any condition or climate, including water.

Key Product Features 4

Includes two (2) applications for up to 5-7 days of use. Kinesiology tape by STRENGTHTAPE® is perfect for everyone from hard charging athletes to weekend warriors. We've made the complicated easy.

Key Product Features 5

Precut tape for easy application. Excellent combination of stretch, breathability & adhesion. Perfect for new users! Not affiliated with KT Tape, Kinesio Tape, TheraBand or Rocktape.

Target Audience 1

unixex

Target Audience 2

adult

Target Audience 3

Therapists

Search Terms 1

Relief pattern releaf lymhatic drainage lymphatic

Search Terms 2

Fand drainage packe cutt feets fett tage selotape

Search Terms 3

Pac apin ain kt kinesio qucik quik pak cutted sprt

Search Terms 4

Lated lastique support athletic latex sport taping

Search Terms 5

Elastic heal pack pregnancy muscle trauma quick

Unit Count

1

Unit Count Type

Precut Application
You might also like Products