Theratape is maintaining our commitment to fast 1pm CST daily shipping despite the COVID pandemic.
StrengthTape Precut Strips
Supercharge your kinesiology taping with negative ions for greater pain relief and faster recovery. Pair that with the strongest adhesive in the industry and you've got a tape that won't quit, even if you do! Each 16' roll contains 20 tear-off 10 inch strips with 5-7 day wear time.
We utilize industry-leading procedures to protect your privacy and security.

Orders received by 1:00 pm CST M-F will ship the same day.

30-day money-back guarantee for damaged, defective or unwanted items.
Supercharge your kinesiology taping with negative ions. StrengthTape is made by Endevr, maker of the best selling power and balance bracelets now worn by millions around the globe. StrengthTape's power balance technology is created by infusing charged mineral and gemstone particles into kinesiology tape. These natural substances generate negative ions or anions, charged molecules that relieve stress and boost energy. These charged particles are easily absorbed through the skin, making StrengthTape a powerful conduit to introduce negative ions into the body. Negative ions multiply the benefits of kinesiology tape by increasing antioxidants which protect cells from free radical damage associated with overuse or injury. This can lead to greater pain relief and more rapid recovery after intense exercise or injuries.
10% greater elasticity provides additional support for injuries and snap-back for performance enhancement
proprietary, AllSport adhesive provides superior sticking power in all conditions, including water
when properly applied, most applications will provide pain relief, comfort and support for 3-7 days
each 16' roll contains 20 precut 10" strips - enough tape for 10+ average applications
precut strips combine the ease of precut strips with the convenience of a roll. Just open a roll, tear off a strip and you're ready to tape - no cutting or measuring required.
How does StrengthTape's Negative Ion Technology Work?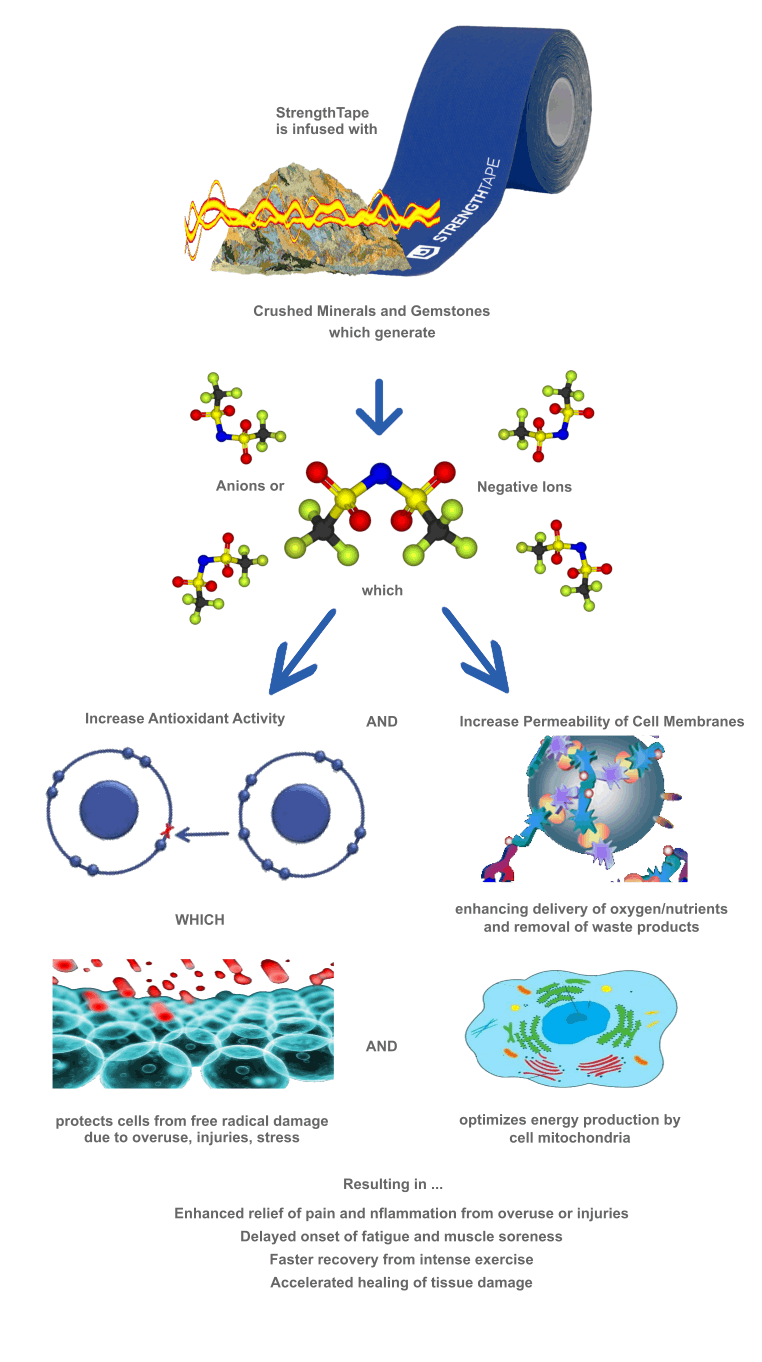 Data sheet
Strip Length

10 inches (25cm)

Strip Type

I Strips

Width

2 inches (5 cm)

Tape Type

Precut Strips

Adhesive Type

Strong (5-7 days)

Google Product Condition

new

Brand

StrengthTape

Length

16 feet (5m)

Package Qty

1 Unit

Google Product Type

Health & Beauty > Health Care > First Aid > Bandages & Tapes > Kinesiology Tape

Special Features

Extra Strong Adhesive,Greater Elasticity

ASIN

B00U1IAX1W

Amazon Category

Health and Personal Care
Sports and Outdoors

Amazon Item Type

kinesiology-recovery-tapes

Amazon Product Type

sportinggoods

Amazon Item Type Keyword

kinesiology-recovery-tapes

Key Product Features 1

Each 16' roll contains 20 precut 10" strips - enough tape for 10+ applications. An extra strong acrylic adhesive allows most applications to last 3-7 days in virtually any condition or climate, including water.

Key Product Features 2

Provides support and stability for injured muscles, joints, and tendons without limiting range of motion like regular athletic tape.

Key Product Features 3

Gentle lifting action of the tape promotes circulation for relief of pain and inflammation, plus enhanced endurance and faster recovery

Key Product Features 4

Anions or negative ions may help to reduce inflammation and pain related to oxidative stress which occurs with intense exercise, overuse and injuries.

Key Product Features 5

Anions may also boost athletic performance by enhancing the function of cell mitochondria, which produce the fuel that powers muscular contractions.

Target Audience 1

unixex

Target Audience 2

adult

Target Audience 3

Therapists

Search Terms 1

Kt tape taping muscle compass pain extreme sports

Search Terms 2

Therapy recovery exercise medical ain ironman sprt

Search Terms 3

Health triathlons strong gentle excersize stress

Search Terms 4

relief strengh compus extream extreem theropy tage

Search Terms 5

exersize stong apin boost relif releaf selotape

Unit Count

1

Unit Count Type

Roll of 20 I-Strips