Theratape is maintaining our commitment to fast 1pm CST daily shipping despite the COVID pandemic.
KT Tape Pro Wide - 10 Precut Strips - Jet Black
Need support that will endure your toughest workout? KT TAPE PRO is just what the trainer ordered. It will keep you pain free and supported exactly where you need it. KT TAPE PRO will stay in place through multiple demanding workouts for up to seven days. KT TAPE PRO will stick with you in the harshest conditions including daily showers, humidity, cold, even in the pool. Wide is perfect for larger application areas, like the lower back, thighs, shoulders, or calves.
100% synthetic microfiber tape with reflective pattern
ultra-strong SecondSkin adhesive lasts up to 7 days
hard plastic carrying case with twist on lid
convenient, precut "I" strips - no scissors needed
10 brilliant colors to mix and match
Each roll contains 10 precut 10" strips of synthetic kinesiology tape and includes a Quick Start Guide with step-by-step instructions for common injuries.
We utilize industry-leading procedures to protect your privacy and security.

Orders received by 1:00 pm CST M-F will ship the same day.

30-day money-back guarantee for damaged, defective or unwanted items.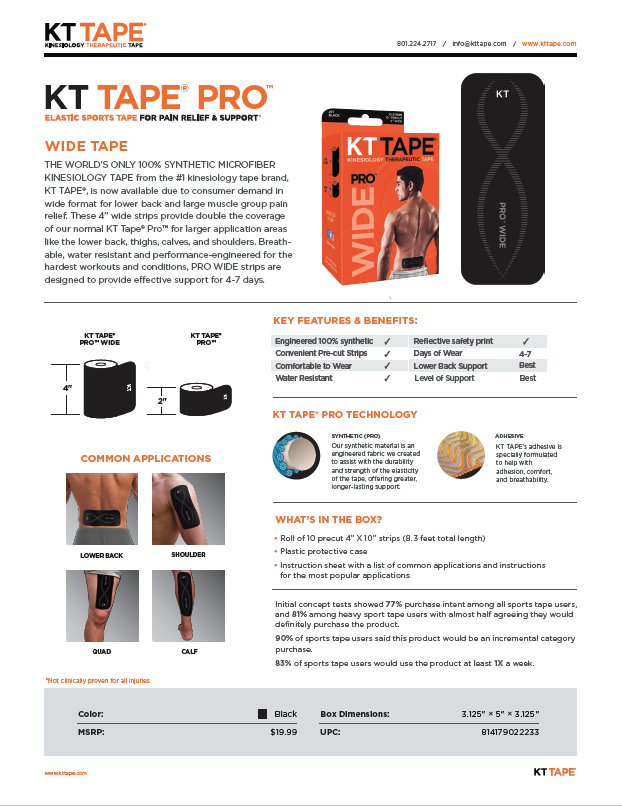 Data sheet
Strip Type

I Strips

Color/Pattern

Black

Strip Length

10 inches (25cm)

Size

Single Roll

Tape Type

Precut Strips

Width

4 inches (10 cm)

Adhesive Type

Strong (5-7 days)

Tape Color

Black/Black Pattern

Brand

KT Tape

Package Qty

1 Unit

Length

8.4 feet (2.5m)

Special Features

Easy Application,Extra Strong Adhesive

Google Product Type

Health & Beauty > Health Care > First Aid > Bandages & Tapes

UPC:

814179122578

Amazon item type keyword

kinesiology-recovery-tapes

Category path

Health & Beauty/Medical Supplies & Equipment/Braces, Splints & Slings

ASIN

B076SRKYC3

Number units for price per unit

1

Country Of Origin

China

Product Tax Code

Bandages and First Aid Kits

Attribute ID

814179122578

Attribute Value

Black

Variation Refinements

119

Group Title

KT Tape Pro Synthetic Kinesiology Tape - 8.3' Roll with 10 Precut Strips

Product Title

KT Tape Pro Kinesiology Tape - 20 Precut Strips - Jet Black

Multi-Pack Quantity

1

Jet Long Description

KT TAPE PRO is the latest breakthrough in light elastic taping. The synthetic fibers are performance engineered with a larger elastic core. KT TAPE PRO lasts longer and works harder to keep you in the game. KT TAPE PRO features a stronger adhesive, quicke

Standard Product Code Type

UPC

Bullets

"Each roll contains 20 easy-to-apply 10" precut strips","Reflective pattern for increased safety in low light conditions","Hard plastic case protects tape wherever you take it","Quick Start application guide included with instructions for common injuries"

Package Type

Single Roll

AMZ SKU

KTT-PRO-PSW-BLA

Is Amazon

1

Amazon Category

Sports and Outdoors

Jet Item Price

19.9900

Origin AMZ Sku

KTT-PRO-PSW-BLA

Amazon Product Type

sportinggoods

Amazon Item Type Keyword

kinesiology-recovery-tapes

Key Product Features 1

FOR SERIOUS ATHLETES – The most advanced kinesiology tape, made from 100% synthetic fabric to last far longer than other brands. Lightweight, latex free, comfortable, provides both support & mobility, and includes safety reflective print & carry case.

Key Product Features 2

STRONG ADHESIVE – Latest technology that sticks for days with effective skin preparation. Our synthetic, moisture-wicking, breathable fabric provides maximum water, sweat, and humidity resistance. And the precut rounded corners help avoid frays.

Key Product Features 3

EASY TO USE – Ready-to-use precut strips are perfect for tape applications. No need for messy cutting with long, uncut rolls of tape. Easy to self-apply using our free instruction videos for dozens of common injury areas. Contact us with questions.

Key Product Features 4

HOW IT WORKS – KT Tape helps reduce tissue pressure and provide large muscle group support, helping you recover faster from pain. Just ask one of our Pro or Olympic athletes who rely on KT Tape when pain is present and when championships are on the line.

Key Product Features 5

QUALITY GUARANTEE – Buy with confidence in our superior quality and impeccable customer service. Contact us directly if you have any issues, problems, or questions. We are here to help you overcome pain and obstacles as you reach for peak performance.

Target Audience 1

unisex

Target Audience 2

adult

Target Audience 3

Therapists

Search Terms 1

Athletic Rocktape reflective thera running medical Kinesio kinetic physical therapy band proffesional Equipment recovery biking accessories wrap extreme Gymnastic strong tage selotape profesional theropy physcial wrapp wap extream extreem stong bulk

Search Terms 2

Kinesio kinetic physical therapy band proffesional

Search Terms 3

Equipment recovery biking accessories wrap extreme

Search Terms 4

Gymnastic strong tage selotape profesional theropy

Search Terms 5

physcial wrapp srap wap extream extreem stong bulk

Offer Condition Note

Authorized KT Tape distributor. Orders received by 1 pm central time ship same day!

Unit Count

1

Unit Count Type

Roll of 10 I-Strips

Marketplace Description

KT TAPE PRO, the best-selling 100% synthetic kinesiology tape, is now available due to consumer demand in wide format for lower back and large muscle group pain relief. These 4" wide strips provide double the coverage of regular KT TAPE PRO for larger app

Marketplace Title

KT Tape PRO Wide Synthetic Kinesiology Tape Roll - 10 Precut 10 Inch I Strips - Jet Black