Theratape is maintaining our commitment to fast 1pm CST daily shipping despite the COVID pandemic.
KT Flex Reinforced Knee Support Strips
KT FLEX is a revolutionary 2-strip system that provides effective support for weak or injured knees without the bulk or restriction of a stabilizing sleeve. It features KT Tape's patented FREEFLEX™ technology in the form of a flexible stabilizing bar embedded in the tape for added support and stability.


Supports like a sleeve without the restriction


Supports while allowing full range of motion


Water resistant, lightweight and comfortable


Ideal for use in many athletic activities


Can be worn 1-3 days


8 strips/package = 4 applications


We utilize industry-leading procedures to protect your privacy and security.

Orders received by 1:00 pm CST M-F will ship the same day.

30-day money-back guarantee for damaged, defective or unwanted items.
Video - How to Apply KT Flex Knee Strips
KT Flex Application Instructions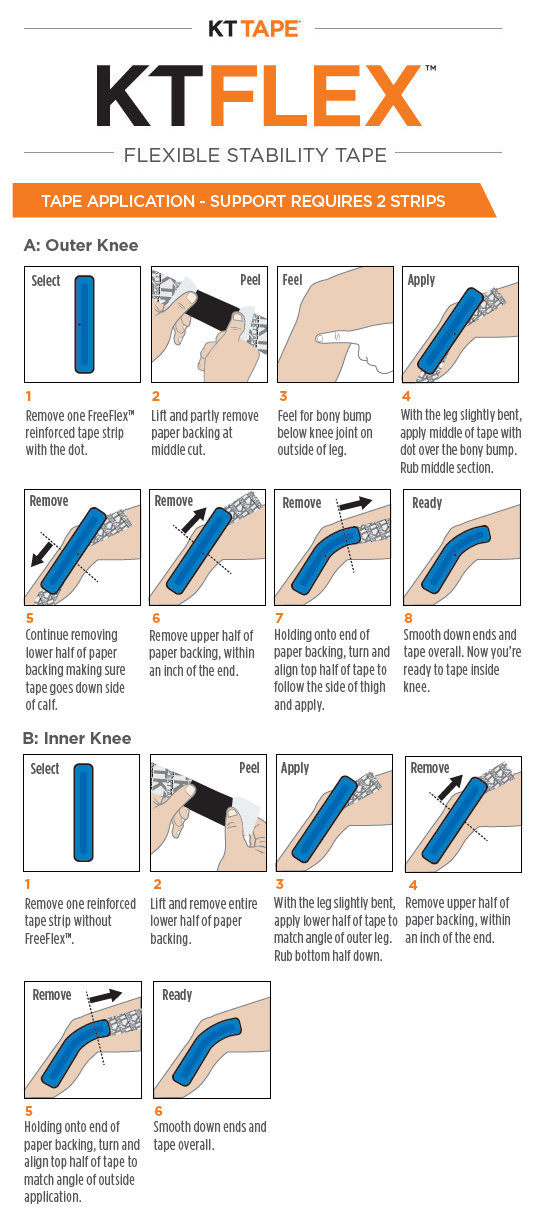 Data sheet
Color/Pattern

Blue

Strip Type

I Strips

Strip Length

10 inches (25cm)

Width

2 inches (5 cm)

Tape Type

Precut Strips

Adhesive Type

Light (3 days)

Body Part

Knee

Tape Color

Blue/Blue Patttern

Brand

KT Tape

Package Qty

Pack of 4

Special Features

Easy Application

Google Product Type

Health & Beauty > Health Care > First Aid > Bandages & Tapes

UPC:

814179020215

IsJet

1

Jet Browse Node ID

6000085

Amazon item type keyword

kinesiology-recovery-tapes

Category path

Health & Personal Care > Medical Supplies & Equipment > Braces, Splints & Slings > Leg & Foot Supports > Knee Braces

ASIN

B01FSHFXAQ

Country Of Origin

China

Product Title

KT Flex Reinforced Knee Support Strips - 8 Strips/4 Applications

Multi-Pack Quantity

1

Jet Long Description

The KT FLEX™ is a 2-strip system engineered to provide effective, comfortable support for weak or injured knees. KT FLEX™ is for athletes, fitness enthusiasts, or those recovering from an injury who want extra support for the knee without the

Standard Product Code Type

UPC

Bullets

"2 Strip Application System for inside and outside of the knee with FreeFlex technology that allows for less restricted motion","Utilizing the same famous design, KT FLEX provides the same freedom and comfort as KT TAPE (Kinesiology Tape)","Outer Knee Sup

Manufacturer Part Number

5808

Package Type

Box

Is Amazon

1

Amazon Category

Sports and Outdoors

Jet Item Price

14.9900

Origin AMZ Sku

KTT-FLEX

Amazon Product Type

sportinggoods

Amazon Item Type Keyword

kinesiology-recovery-tapes

Key Product Features 1

Comfortable support for injured or painful knees without the restriction of bulky sleeves or braces

Key Product Features 2

Specially woven design provides breathability and can be worn comfortably for up to 3 days

Key Product Features 3

Simple 2-step application process takes less than a minute

Key Product Features 4

8 precut strips per box = 4 complete applications

Key Product Features 5

Latex-free adhesive to avoid skin irritation

Intended Use 1

Sports Medicine

Target Audience 1

unixex

Target Audience 2

adult

Target Audience 3

Therapists

Other Attributes 1

Latex-free

Search Terms 1

Brace sleeve kinesiology athletic sprain equipment Strain medical kinesio meniscus physical adheasive Therapy pain kinetic runner sport Rocktape extreme Precut brack starin menescus minicus rummer Physical theropy equipments apin extream extreem

Search Terms 2

Strain medical kinesio meniscus physical adheasive

Search Terms 3

Therapy pain kinetic runner sport Rocktape extreme

Search Terms 4

Precut sports brack starin menescus minicus rummer

Search Terms 5

Physical theropy equipments apin extream extreem

Shipping Weight

4

Shipping Weight UOM

Ounces

Color Map

blue

Offer Condition Note

Authorized KT Tape distributor. Orders received by 1 pm central time ship same day!

Unit Count

1

Unit Count Type

Box of 4 Applications

Marketplace Title

KT Flex Reinforced Knee Support Strips