Theratape is maintaining our commitment to fast 1pm CST daily shipping despite the COVID pandemic.
Genesis Excel Performance Tape Sample Pack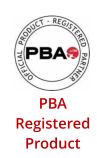 Excel Performance Tape is a multi-use kinesiology tape developed to assist bowlers with ball fitting, release speed and
skin protection. Rather than being applied inside the holes of the bowling ball like insert tape, Excel Performance Tape is applied directly to the thumb and fingers for a more customized application. The highly elastic synthetic fabric stretches and moves with your skin and the patented adhesive leaves no sticky residue. The 2.75" x 1" (7cm x .5cm) size is perfect for wrapping around fingers and thumbs, but is also great for toes, heels and other small areas of the body that need some extra protection.
If you're not sure which Excel product will be best for you, this sample pack is a great item to start with. It contains 2 strips each of Excel 1, 2, 3, 4 and 5 so you can test them all to determine which gives you the perfect fit.
We utilize industry-leading procedures to protect your privacy and security.

Orders received by 1:00 pm CST M-F will ship the same day.

30-day money-back guarantee for damaged, defective or unwanted items.
Which Excel Performance Tape is Best for You?
The Excel line of performance tapes comes in 5 uniquely different options, allowing you to completely customize grip, protection and release speed. The chart below will help you decide which style is best for you. Still not sure after reading the chart? Try the Excel Performance Sample Pack, with 2 of each style.















 
 
 
 
 

Synthetic

Synthetic

Synthetic

Cotton

Cotton

2-Way Stretch

2-Way Stretch

2-Way Stretch

1-Way Stretch

1-Way Stretch

2
Extra Thin
3
Thin
4
Medium
5
Thick
5
Extra Thick
4
Good Protection
4
Good Protection
4
Great Protection
5
Great Protection
5
Best Protection
5
Fastest Release
4
Med-Fast Release
3
edium Release
2
Med-Slow Release
1
Slowest Release

Details

Details

Details

Details

Details
Data sheet
Strip Length

2.75 inches (7cm)

Color/Pattern

Red

Strip Type

I Strips

Width

1 inch (2.5 cm)

Tape Type

Precut Strips

Adhesive Type

Regular (3-5 days)

Body Part

General Use,Foot,Hand

Brand

Genesis

Tape Color

Red/Red Pattern

Package Qty

Box of 40

Google Product Type

Health & Beauty > Health Care > First Aid > Bandages & Tapes

Special Features

Easy Application,Narrow Width

UPC:

685450077385

IsJet

1

Jet Browse Node ID

10000002

Amazon item type keyword

bowling-insert-tape

Category path

Health & Beauty/Medical Supplies & Equipment/Braces, Splints & Slings

ASIN

B015M4XJI8

Number units for price per unit

5

SKU urls

test

Display length inches

0.1

Display width inches

0.1

Display height inches

0.1

Legal Disclaimer Description

Legal Disclaimer Description

Country Of Origin

South Korea

Map Price

3.5

Product Tax Code

Baby Supplies

Standard Product Code

685450077385

Attribute ID

2
685451177385

Attribute Value

111

Fulfillment Node Id

1

Fulfillment Node Price

123

Sub Status

Missing categor

Variation Refinements

119

Product Title

Genesis Excel Performance Tape Sample Pack (Precut Strips)

Multi-Pack Quantity

1

Jet Long Description

Excel Performance Tape is a multi-use kinesiology tape developed to assist bowlers with ball fitting, release speed and skin protection. Rather than being applied inside the holes of the bowling ball like insert tape, Excel Performance Tape is applied dir

Map Implementation

102

Main Image Url

http://theratape.com/media/catalog/product/e/x/excel-sample-pack.png

Swatch Image Url

http://theratape.com/media/catalog/product/e/x/excel-sample-pack.png

Standard Product Code Type

UPC

Bullets

- Sample pack contains 2 each of Genesis Excel 1, 2, 3, 4 and 5 - try each variety to find which works best for your- Multi-use performance fitting, protection and release tapes made from therapeutic kinesiology tape- 1" x 2.75" size is ideal for protecti

Manufacturer Part Number

GENXPT1

Package Type

Box

Package Length

3

Package Width

0.02

Package Height

4.5

Is Amazon

1

Amazon Category

Sports and Outdoors

Amazon Product Type

sportinggoods

Amazon Item Type Keyword

bowling-insert-tape

Key Product Features 1

Sample pack contains 2 each of Genesis Excel 1, 2, 3, 4 and 5 - try each variety to find which works best for your

Key Product Features 2

Multi-use performance fitting, protection and release tapes made from therapeutic kinesiology tape

Key Product Features 3

1" x 2.75" size is ideal for protecting thumbs, fingers and feet against blisters, cuts and abrasions caused by friction

Key Product Features 4

Proprietary, low-residue adhesive provides maximum adhesion without the mess

Key Product Features 5

2-way stretch allows tape to flex as you move, providing protection without restricting movement

Target Audience 1

unixex

Target Audience 2

adult

Target Audience 3

Therapists

Search Terms 1

Relief kt fitness sprain excersize athletic weight Grip lift extreme pro relif releaf tage kenisology Selotape apin frip lft ift extream extreem medical Kinesio support accessories muscle outdoor supplys Recovery knee theropy therapy lastique elastic

Search Terms 2

Grip lift extreme pro relif releaf tage kenisology

Search Terms 3

Selotape apin frip lft ift extream extreem medical

Search Terms 4

Kinesio support accessories muscle outdoor supplys

Search Terms 5

Recovery knee theropy therapy lastique elastic ain

Shipping Weight

1

Shipping Weight UOM

Ounces

Offer Condition Note

Orders received by 1 pm central time ship same day!

Unit Count

1

Unit Count Type

strips

Marketplace Description

The days of using tape strictly for adjusting fit are a thing of the past. Get the Power to Excel™ with the industry's most advanced tape technology. The Excel line of performance tapes provide you with superior protection against blisters, cuts and abras

Marketplace Title

Genesis Excel Performance Tape Sample Pack